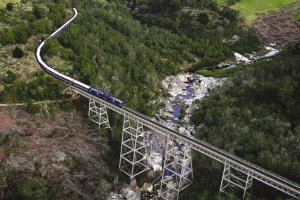 The Blue Train, a Window to the Soul of South Africa
Featured as one of the World's Top 25 Train Rides, The Blue Train has an aura of mystique about it. Kings and presidents have travelled on this magnificent moving five-star hotel. Its very name has become synonymous with the ultimate in luxury and personal service.
The routes of The Blue Train - both scheduled and chartered - take guests through some of the most breathtaking countryside to be found anywhere in the world.
The suites on The Blue Train live up to its reputation for magnificence and splendor. The finest bed linen, marble tiles and gold fittings in the bathrooms and sheer opulence all ensure that guests will never forget the time they spend on The Blue Train.
When you choose to travel on The Blue Train, you choose to travel in a world of grace, elegance and romance.
The Blue Train operates a 2 day / 1 night trips from Pretoria to Cape Town and vice versa, on selected days, allowing passengers to complement their trip with a perfect ending without extending their stay longer than their schedule allows.
Your journey includes:
Reception at the Blue Train Lounge at the Pretoria or Cape Town Train Stations
Accommodation at a luxurious suite with private bathroom
Fine dining: Brunch, High Tea, Dinner and Breakfast
Pre-dinner drinks at the Lounge
Off-train excursion
Prices start from $1,530 per person sharing double occupancy suite.
For information and reservations please contact us.