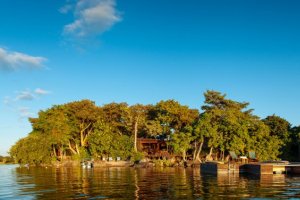 Jicaro Island Ecolodge
Jicaro Island Ecolodge is a premier nature resort and considered one of the world's top twenty-five eco-lodges by National Geographic Traveller. Nestled on a private island that is part of an Archipelago of 365 islets, this resort has the distinction of being one of Nicaragua's best hotels and offers spectacular views of the Mombacho Volcano along with the other small islands around the Asese peninsula.
Private Casitas
There are nine private two-story luxury casitas with lake views that have been designed for tranquility and serenity. The cabins have been built with Rain Forest Alliance FSC certified cedar hardwood, boasts 60 square meters of space, features a second-story bedroom with a king-size bed, a downstairs living area (which can be converted into an additional sleeping area) and access to a private balcony. All nine casitas on the island are within a short walk to the pool and restaurant area, and for those guests who cannot bear to leave their hammock, early morning coffee or late night "sundowner" delivery services are available upon requests.
Culinary Experience
The small intimate outdoor restaurant has an open kitchen offering fresh, local, organic and healthy dishes with a focus on fish, chicken, vegetables, and fruits. Well-traveled foodies will be delighted with the extraordinary Nicaraguan specialties the resorts top chefs have created. Breakfast, lunch, dinner and non-alcoholic drinks are all included in the room rate with a full-service bar available for alcoholic beverage purchases.
Tours and Activities
There are a variety of activities available on the island that will satisfy those seeking rejuvenation as well as those who wish to be more active. Yoga, wellness treatments, kayaking, hiking, and swimming are just a few of your choices. The resort also offers full and half-day excursions to the Mambacho volcano, Colonial Granada, the Cloud Forest, Canopy tours and so much more. Of course, the island of Jicaro itself has an abundance of nature, a rich history, and a fascinating culture to explore with local professional guides who will enrich the experience.
Plantations, Tropical Rainforest, and Hot Springs
The signature tour of the Jicaro Ecolodge is a visit to the hot springs which is not to be missed! Imagine taking a short boat through water channels, trekking through the Mombacho Cloud Forest, the home of howler monkeys, sloths, iguanas and a variety of birds in search of the hidden hot springs at the foot of the Mombacho Volcano…a tranquil paradise is found.
Sustainability
Harmony with nature and the local community were a key consideration in the development and sustainability of the Jicaro Ecolodge. The hotel was built with minimum impact to the island and with careful planning. A high priority was placed on working with the local community to achieve improvements in education, health and nature conservation.
Traveling to Nicaragua
Nicaragua is the land of lakes and volcanos; if you have a sense of adventure, you will embrace all that Nicaragua has to offer. The Nicaraguans are some of the nicest people you will ever meet, who are eager to share their incredible culture with you along with the natural wonders of their country. Once you experience Nicaragua and Jicaro Island Lodge, leaving will be difficult to do.
How to Get There
Jicaro Island can be reached in less than one hour from the International Airport in Managua by shuttle transfer. Upon arrival to the Granada Asese Port, a bilingual guide will accompany you on a twenty-minute boat ride to the Jicaro Island Ecolodge.