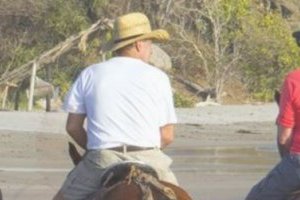 Morgan's Rock Ecolodge
This luxurious lodge is located on a 4,000-acre expanse of the Nicaraguan jungle, with nearly half of the property being a government-designated reserve - Morgan's Rock is immersed in nature. There are fifteen exquisite thatched-roof bungalows nestled in the lush jungle, with stunning ocean views and a private mile-long sandy beach to sink your toes into.
Beach Bungalows
The three-sided, casual yet luxurious and sustainably constructed, bungalows can accommodate up to five people; with a spacious master bedroom, a balcony with a suspended queen size bed and a terrace to enjoy your morning coffee or perhaps a glass of wine at sunset. Each bungalow is perched on a cliff overlooking the private beach and cove. Imagine relaxing on a queen size suspended day bed surrounded by an abundance of nature, perhaps spotting a howler monkey or a lazy sloth, reminding you that you have entered another world, to switch gears and just relax.
Culinary Experience
The dining experience at the hacienda is truly delightful, whether you choose to enjoy a lovely meal in the beautiful restaurant overlooking the ocean (sunsets are complimentary) or perhaps a hearty breakfast of handmade tortillas down at the farmhouse, Morgan's Rock will not disappoint as sixty percent of the food products are sourced from the large working farm on the premises, organic meat, fruits, vegetables and shrimp from a sustainable farm, create the perfect chefs palette. Diners will enjoy a variety of special Nicaraguan and international dishes.
Tours and Activities
Morgan's Rock jungle reserve, organic farm, estuary, astounding wildlife, mangrove forest and private beach (with year-round nesting turtles) is a playground for naturalists and soothing for the soul. Lend a hand on the organic working farm, go fishing, beachcombing, kayaking through the mangroves, hiking or zip-lining through the jungle are just a few of the activities at your doorstep. If you need to relax and unwind, treat yourself to a soothing massage followed by a nap on the beach or on your own private balcony. The Ecolodge also offers short excursions to Granada, the oldest city in Nicaragua, a ferry ride to Ometepe Island, a geographic point of interest which was declared a "Biosphere Reserve" by UNESCO, or perhaps you would like to learn to surf at the prestigious San Juan del Sur, the premier surfing spot in the world…to name just a few.
Sustainability
Morgan's Rock was constructed with minimal impact on the surrounding environment and with respect for the local indigenous communities. Minimal earth movement and tree cutting were done, solar panels are used to heat the bathwater, the décor was inspired by the traditions of the local cultures, and the bungalows were furnished by "Simplemente Madera", an international sustainable wood products and furniture company.
How to Get There
The lodge is strategically located to the south of Nicaragua's most important tourism destination, Granada, and just north of the Costa Rican border. You may choose to take your international flight into Nicaragua's capital Managua or the northern Costa Rican city of Liberia. If you wish to arrive by air from Managua, there is a private runway that allows you to reach the lodge in a short 35 minutes trip.