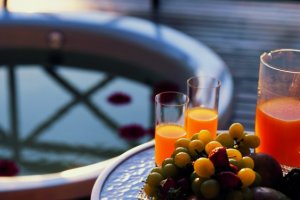 Ponta Dos Ganchos Exclusive Resort, Florianopolis, Brazil
Ponta dos Ganchos Resort is located on a privately-owned peninsula that juts out from the southern Brazilian coast between picturesque fishing villages, making it one of the most exclusive beach resorts in Brazil. A single hop from São Paulo, Rio de Janeiro or Buenos Aires, this romantic hideaway makes dreams a reality: 25 sophisticated and charming bungalows in perfect harmony with the breathtaking scenery. Here the waters of the Emerald coast meet the lush rainforest vegetation in a dazzling display of color and light.
This privileged location guarantees our guests total privacy, while the luxurious bungalows provide them with the comfort they deserve. The Relais & Chateaux seal is a testament to our impeccable facilities, the exquisite flavors of our cuisine and the quality of our services.
Ponta dos Ganchos offers a fitness center, cinema, business center, restaurant, bar, lounge, games room, tennis court, heated swimming pool, massage tents, SPA by Christian Dior, and nature trails. Close to the resort is the best site for scuba diving in South Brazil, Arvoredo Island, in addition to excellent destinations for boat trips, such as Anhatomirim Island and the Baía dos Golfinhos.
The district of Governador Celso Ramos is just 25 miles (40 km) from the state capital Florianópolis and is a region immersed in history and tradition, with its small fishing villages whose inhabitants are descendants of the first immigrants from the Azores to settle along the Santa Catarina coast. It is a slice of the old-fashioned Brazil of colonial times, where the most important elements of life are traditional activities such as fishing, embroidery and oyster and mussel farming.
We are unable to accept guests under the age of eighteen, both in order to maintain the peace and tranquility, our guests expect and also because of the nature of the local terrain.