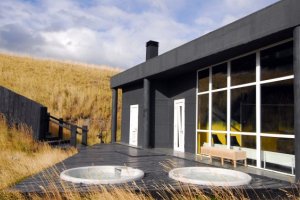 Remota Lodge, Puerto Natales, Patagonia
We daydream wishing to spend a week of leisure in a remote place, a place so very far away, consciously avoiding access to the global Internet and mobile phones. Our best offer is to happily disconnect from the dependence of daily routines, close your agenda and feel free from obligations; to become childlike once again, to open your eyes and heart to what happens in your surroundings more than in yourself, and let a new self appear!
A hotel so far away and hard enough to reach, you deserve being here. A destination marvelous and beautiful in itself. Prepare and anticipate the journey like you do a good party or family celebration, moments you dream long before they finally become an unforgettable experience. The hotel is distant from the big city and closes by to a Patagonian village: small and fun enough to invite short walks; interesting enough to open its cultural background with good local museums.
Remota is located in Puerto Natales, the geographical and cultural center of Chilean Patagonia, 250 km or a three hours' drive from Punta Arenas on an asphalt road. Punta Arenas is the last city to the South of Chile, a four-hour flight from the capital, Santiago.
We are open all year round because any time is a good moment to come and stay. Weather and landscape changes that come with the seasons, the bright side of the unexpected, which is the purpose of the trip. In summer, days are long and considerably windy, with maximum temperatures between 13º and 20º C, and minimum temperatures around 5º C. During fall, the color of trees, shrubs, and grass reaches its peak; in winter there is not too much wind, with shorter and brighter days, and very little snowfall, which does not last long by the sea. In springtime life is renewed, newborns arrive and all begins to blossom.
We offer Thirty different excursions, in a region that is a real-world reserve of beauty and culture, both within Torres del Paine National Park, as well as beyond mountains, glaciers, lakes, rivers and forests, towards cattle farms in vast prairies, land of ancestral native cultures, nomad hunters like Onas and Huilliches, or the Yamanas, fishermen and divers, who have impregnated their geography with the stories and legends that seduce today's travelers, as much as they did the first seamen and scientists, like Magellan and Darwin.