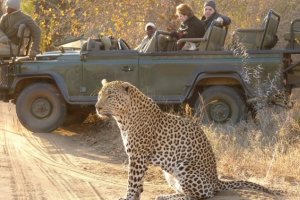 Thornybush Game Lodge - The Bush Beckons
Enjoy exciting dawn and dusk safaris in open Land Rovers or optional mid-morning bushveld walks. Take a moment to browse in the intimate library or simply enjoy a treatment in the Thornybush Amani Spa or relax at the pool with your favourite cocktail as you bask in Africa's glorious sunshine. An African safari can be a life-changing experience.
Whilst the size of the Lodge could accommodate special gatherings, the configuration of the self-contained luxury suites provides for privacy and solitude for couples and small parties visiting this special Lodge.
The Thornybush Game Lodge provides accommodation consisting of stylish air-conditioned suites, with extensive living areas overlooking the seasonal Monwana River. There are 18 suites, 2 family suites and accommodation caters for a maximum of 40 people collectively.
From within the sumptuous individual suites, each with full en-suite facilities, outdoor shower and private decks, sweeping vistas over the savannah and ever active water hole can be enjoyed. Bathrooms boast large glass windows, offering unique game viewing in & past the river bed. Superb attention to detail and highly personalized service make for a memorable stay.
All Room Feature:
Air-Conditioning
Telephone
Mini Bar
Safe in room
Separate Bath and Shower
Outside shower
Hairdryer
Tea and coffee making facilities
Thornybush Private Game Lodge offers unique exclusive Safari experiences in both open Land Rovers, and on foot. The private reserve is home to an abundance of species: 147 mammals including the "Big Five", 114 reptiles, 507 birds, 49 fish, 34 amphibians and 336 trees. The reserve is predominantly open savannah and with a near perfect year round climate, it is the ideal African safari holiday destination.
A typical day at Thornybush Game Lodge
The day starts as dawn breaks over the African bushveld. After your early morning wakeup call, coffee, tea & rusks are served on the main deck overlooking the riverbed. Shortly after, you depart in your open Land Rover with your experienced Rangers and Trackers who will share their extensive knowledge of the bush with you. These drives are undertaken at times best suited for game viewing which vary depending on the season but typically start early morning. Where applicable you may be invited out of the vehicle to see tracks, examine certain plants and follow spoor.
After an exhilarating hunt for tracks to see what the animals have been up to during the night, and tracking down whatever you find, you will stop somewhere out in the bush for a break of coffee & tea. Time to stretch your legs whilst having your sunglasses cleaned & indulge in cool towels in summer, and hot towels in winter. In winter, we keep our guests warm on the vehicle with hot water bottles & warm blankets.
After a sumptuous breakfast is served either back at the camp or in the riverbed or bush, guests are offered walks to suit their interests and fitness levels, and are accompanied by an armed ranger and tracker.
Walks allow guests a better chance to see some of the smaller creatures of the bush as well as an opportunity to learn more about the flora and fauna of the region & to have a chance to follow tracks in more detail.
Our Shangaan trackers will enthrall you with their explanations of the medicinal and other uses of the numerous plants and trees along with tales of traditional folklore.
The rest of the day is spent at the discretion of the guest for other activities that we offer, with a delicious lunch being served around 1.30pm.
The afternoon game drive is preceded by high tea and extends into the evening to view seldom seen nocturnal species by torchlight.
Upon returning for a gourmet 3 course dinner, either in the boma, bush or lodge - guests can socialise with a cognac, single malt or cigar around the campfire or lounge before returning to bed for another day's adventure.
Where possible, safaris will be tailored to suit individual preferences and interest.

For information and reservations please contact us.