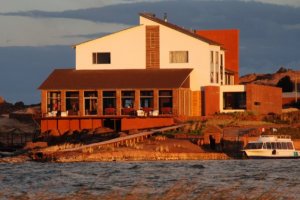 Titilaka Lodge
Discover the mysteries of Lake Titicaca, the highest navigable lake in the world. Visit the man-made floating islands, as well as the fascinating Taquile Island with their unique culture and traditions.
About the Lodges program:
The all-inclusive experience begins at the Juliaca airport. Welcomed by a guide and a driver, you travel by Land Rover or similar across the amazing altiplano, bypassing Puno's congestion and going directly to a picturesque wharf. Boarding our motorboat, cruise to Titilaka's secluded peninsula. Your experienced concierge will tailor your itinerary, according to your preferences. Activities range from contemplative to adventuresome, including:
Mountain biking, Land Rover or similar or kayak explorations • Highlands treks & birdwatching • Taquile, Amantani & Uros Islands• Chullpas de Sillustani • Colonial churches • Local village tours • Relaxation & renewal, in a sacred place of timeless spirit.
At dusk, pause and consider cocktails on Titilaka's waterfront terrace, watching the idyllic sunset give way to a velvet-black tapestry sprinkled with endless brilliant stars. Your intimate fireside dinner will be prepared with wholesome regional ingredients: fresh trout from the lake, alpaca meat from the highland plateaus, and the famously varied potatoes and grains of Peru.