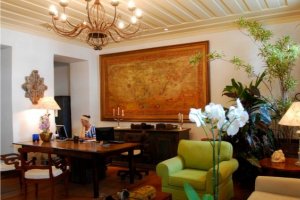 Villa Bahia Boutique Hotel, Salvador, Brazil
In the heart of Salvador's historical center, a step away from the Jorge Amado Museum, from the celebrated Lacerda Elevator and the Praca da Se overlooking All Saints Bay.
The rooms recall the most important moments in the history of the Portuguese explorers, of the African and Asian trade exchanges, of the sea routes, closely tied to the spice trade.
The common areas recall the genius of the great Portuguese navigators, of Pedro Alvarez Cabral, who in 1500 discovered Brazil; of Magellan, of Vasco de Gama; and of the advances made in seafaring that made it possible for them to bring different worlds closer together.
The restaurant and bar evoke the theme of the Spice Route. Bahia gourmet cuisine is revisited here by a great chef.
Indeed, so you may discover Bahian art de Vivre from the inside out, we have combined authenticity and charm – it's up to you to enjoy the good life we offer here!

Accommodation:
17 rooms of 35 m2 and over, 3 rooms with terrace and private bath. These rooms recall the main stages in the history of the Portuguese discoverers, their trade exchanges with Africa and Asia and their maritime routes, all closely tied to the spice trade. The Villa Bahia, therefore, takes you back in time to its very origins, to evoke Cape Verde, Guinea, Angola, Mozambique, but also Ceuta, Ormus, Goa, Calicut, Sri Lanka, Malaga, Timor, Macau, and Nagasaki.