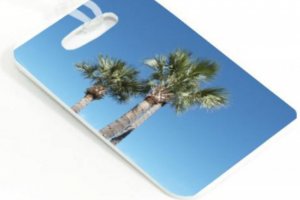 Customized Luggage Tags
If you've ever spent an entire vacation in clothing purchased at the hotel gift shop, you know that nothing disrupts your travel experience like a lost bag. And oh, the confusion when your daughter returns home from band camp with the wrong instrument. How can you ensure that your luggage, backpacks or other carrying cases stand out?
With personalized tags from LuggageTag.com affixed to your bags, you'll be able to quickly identify your possessions from those of others. Nothing is more identifiable than a customized tag with an image of your choosing, printed with your personal contact information. Whether it's luggage or a carrying case, when it's marked with a personalized tag from LuggageTag.com, you'll have no doubt the contents are unmistakably your own.
Each personally designed tag is manufactured to LuggageTag.com's industry leading standards. Our tags measure 3-3/8" x 2-1/8", are a little bit thicker than your credit card and protected by a tough, durable laminate finish. LuggageTag.com supplies the vibrance and durability; you supply the creativity and keystrokes to make your tag your own. Upload your own background image, or select one from our library, and add your information in a typeface and color of your choosing.
All LuggageTag.com customized tags are backed by a LIFETIME Guarantee. Make sure your bags are unmistakably yours; order your set of 4 personalized, durable tags today!
Click Here to customize your luggage tags and receive $5 off from each order (limited time only)